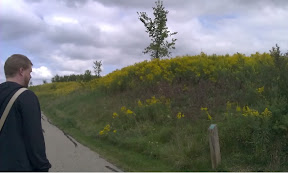 What better way to spend the day then wandering around from park to park? Ok, that's not exactly what we did, but close.
We drove over to East Paris Park after we hit Horrocks to pick up a few things. This park is small and pretty open. In fact, there's now a portion the trail that is akin to walking in several people's backyard, now that brush has been cleared away.
That feeling is in pretty stark contrast to the Paris Park Nature Preserve just down the road. Since we were in the area, we drove over to the reserve and walked a bit over there as well. It's my favorite of the two, but it does have a lot more mosquitoes.
Out last stop was Heritage Park. It's a cute little park with a large pond that attracts a lot of ducks and geese. When we arrived it appeared to be their nap time, which meant we could read in peace and not get stalked. These guys get fed a lot and they will stalk you if they suspect you're hiding tasty treats.