I've always liked the large, soft pretzels sold at movie theaters and in malls, but I rarely buy them these days. That doesn't mean I don't miss them. So I woke up this morning and asked myself "why haven't I ever tried making them myself?"
I snagged a recipe from online that will work with my bread machine (saving me from having to knead, rise, knead) that does not require beer (since I dont have any on hand) and got mixing. A little less than two hours later I was twisting dough into pretzel shapes.
They came out pretty tasty, all in all, though I think I should have let the dough sit in the baking soda/hot water bath a little longer. I might have ended up with more browned pretzels.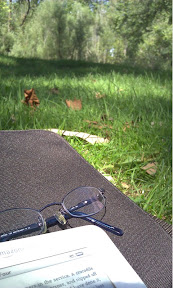 Once the pretzels were done, Chris and I headed out to Palmer Park to enjoy the fantastic weather. The park is relatively quiet. I think a lot people either don't know it's there or avoid it because it can be a haven for mosquitoes.
There were no blood-sucking pests out and about, so we enjoyed a nice afternoon stretched out on the blanket reading. I really do love that Kindle. Easy to read in the sun and easy to flip to a new book when you finish an old one.