So we're both on vacation this week and what better way to enjoy it than take a road trip up north?
We left the Grand Rapids area mid-morning, leisurely driving north and eventually east toward the bridge.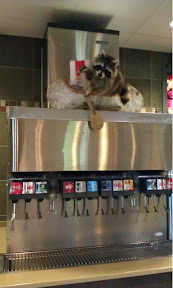 We stopped and had a bite to eat in Kalkaska. We hit a McDonalds, not thinking there was anything else around. We discovered that wasn't exactly the case after we'd had a bite to eat and driven a few more miles down the road. But that's ok. I wouldn't have met the adorable fountain drink mascot if we'd stopped somewhere else (raccoons are just adorable, I can't help it).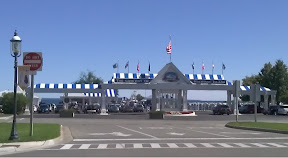 We continued onward and made our next pit stop in Mackinaw City. It's been over 10 years since I've been over here and I forgot just how many freaking fudge shops there are. Wow. And we weren't even on the island.
We took a little stroll down one of the main roads and stopped at a very small city park that provided a nice view of the Mackinac Bridge.
Across the bridge is a toll both you need to pass through to enter the Upper Peninsula. If you're traveling with any livestock or anything they do pull you off for inspection. It feels similar to crossing into Canada (at least 10 years ago, I haven't been to Canada recently so maybe it's more of a hassle now) except there's no awesome metric system in use on the other side.
The road to Newberry is nothing if not full of colorful trees and wildlife.
We arrived at our destination a little after 4pm. So not quite dinner time and not quite enough time to hit any of the places I wanted to hike at. So we decided to head out and check out the area. There's a lot industry here built up around tourists (motels, cabins, etc) so I'm guessing the downtown was more quiet than perhaps it is on a weekend or during the peak season. We tried to eat at a local pizza joint that had a good review, but it was closed so to Pizza Hut we went.
Tomorrow should be fun, hiking around Tahquamenon Falls, blowing through the jerky I made a few weeks ago and just enjoying the outdoors.